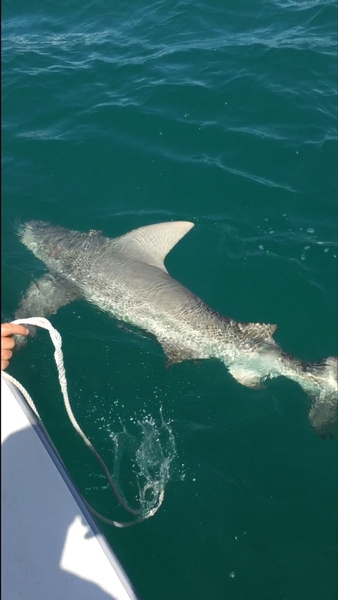 Lot's of toothy fish around this time of year. Sharks and Baracuda are great if you are looking for a fight. Lemons, Black Tips, Spinners and Hammerheads are the most common of the sharks in the Florida Keys. They are all strong and hard pulling on the drag of a reel. They can test your endurance and sometimes even bring you to your knees. Sharks are always fun and thrilling, especially when you have them boat side.
I like to use 40-65 pound braided line on a 6000 to 8000 size spinning reel. I use the Okuma Azores 8000 reel on a Okuma Shadow Stalker rod 7' extra heavy. I'll tie on 5' of 60-80 pound mono leader and end it with 3' of single strand wire 60 pound and a Mustad 9/0 circle hook. My bait of choice is a fresh piece of Bracuda or Jack Cravale.
The Snapper bite has been good on the patch reefs and along the bridges. Mutton, Mangrove and Yellowtail can all be found on the patch reefs. Bridges will hold Mangrove Snapper and Muttons. Baits and rigs, hard to beat live shrimp but fresh cut bait like squid, Bonita and Ballyhoo will get the job done. Rigs that I use are simple, knocker rig or a 1/4 ounce jig head, use as light a fluorocarbon leader as possible. I never use anything above 20lb fluorocarbon leader for snapper. They have sharp vision and spoke easily. You will lose a few but the odds of getting more hook ups will increase as well.
I'm taking reservations for the 2020 Tarpon season for April and May and the month of May will be epic Tarpon fishing. Don't miss out on a Tarpon trip of a lifetime. Book by December 31st 2019 and get a $50.00 discount on a full day Tarpon trip ( April and May 2020 only).
Posted in: News